---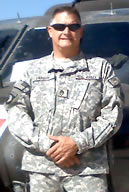 Steven Larson (shown here in Bagram, Afghanistan in 2008-2009, with C Co. 1-168 MEDEVAC, HH-60 Black Hawks) is HHH™'s Chief Operations Officer. Steve started his career with the US Navy in the advanced electronics program, spending ten years on active duty. During his Naval career, he was deployed on two Pacific tours and one Mediterranean tour, aboard some of the greatest aircraft carriers ever built, such as the USS Ranger, USS Kitty Hawk, and the USS J.F. Kennedy.
After leaving the military, Steve worked as a flight-line manager for a small, fixed-base operator (FBO) in Hartford, CT. Next, he moved back to his home state of California to assist his father in the family landscaping business. Upon his dad's retirement, he partnered with his wife Deborah to create a successful, online, business-referral company.
After the events of 9-11, he joined the Army National Guard, completing a tour in Iraq and one in Afghanistan, later securing a Federal position as a UH-60 Black Hawk helicopter Avionics Supervisor for the California Army National Guard. Having experienced most of the Pacific Rim, along with locations in the Mediterranean and Middle East, he brings an appreciation to what it means to be a veteran dealing with the trials of deployment.