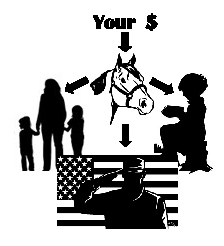 Help us provide quality, no-cost care to those in need.
Horses Healing Heroes™ applies for government grants when they are available; however, they are few and far between. Our main source of funding is the generosity of individuals and companies that want to support our worthwhile program. We understand that donors to worthy causes want 100% of their donation to go directly to providing actual goods or services to the organization's clients and not to covering its day-to-day operating expenses. Though most charities manage to keep the percentage that goes to operating expenses low by utilizing volunteer labor along and donated goods and services, it's necessary that some funds be spent keeping the doors open and the lights on.
Horses Healing Heroes™ is a fully accredited, 501(c)(3) organization, and all donations are tax deductible.