---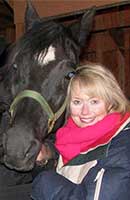 Robyn Bryan-Horrigan, LMFT, HHH™'s Clinical Director, has been a California Licensed Marriage and Family Therapist since 1987 working with every aspect of the mental health spectrum of experience that this licenses addresses. She has specializations in trauma, military trauma and TBI, veteran reintegration, mood and anxiety disorders, substance abuse and recovery, relationship issues, domestic violence, many learning issues and childhood disorders and equine-facilitated therapy and learning. Robyn is also a credentialed teacher K-12, as well as college and graduate level. She has developed many programs for women starting over.
As well as a treatment clinician in psychiatric hospitals, clinics and substance abuse treatment facilities, and her own private practice, Ms. Bryan-Horrigan has developed treatment programs for co-occurring disorders, school drop-outs with conduct disorder and other programs helping to unify those with mental disorders into the mainstream of life whether it be school, work force or family functioning. She has also been a director for several mental health and substance abuse treatment facilities.
Robyn has long used animals in a therapeutic way with many of her clients, having a variety of her own available upon the need or usefulness. Being around horses a good part of her life has led to Robyn's love affair with the equine. After a serious car accident at 17 yrs old in which she received head, neck and back injuries with years of recovery, it seemed her horse involvement days were over. Over the years more horses came into her life in a variety of ways through friends, adoption, rescue, and purchase. After many years she discovered a "non-bouncing" horse easy on her head, neck and back. This horse is Quemado, her Peruvian Paso, a gaited horse that has 3 hoofs on the ground at a time, thus, no bounce. Quemado and her rescued thoroughbred, Midnight, have been used in the treatment of many clients.
Ms. Bryan-Horrigan has taken her career and horses to many cities and states including California, Oregon and Hawaii. In Hawaii her horses worked with her for "Make A Wish". She has included horses into her practice in California, Oregon and Hawaii, with a concentration on veterans returning from combat.
CA. Lic. #MFC23548